Calendula Oil



Calendula Oil is not actually an essential oil but a fusion made with a carrier oil. Because this herbal oil is so beneficial I wanted to include in this list of skin care oils. Calendula has one of the longest histories of any medicinal plant.
Calendula Herbal Oil
Botanical Name: Calendula Officinalis
Origin and Description: Any one who gardens is probably quite familiar with the pretty gold and orange blooms of the Calendula plant. Now grown all over the world Calendula is native to the Mediteranian and was used by the Egyptians thousands of years ago.
Calendula Herbal Oil is made from soaking the flower petals of the calendula plant in a carrier oil such as olive oil. Your left with an oil that has all the good stuff from the calendula flower that your skin loves.
Aroma: Calendula has an earthy floral aroma. It's definately no rose, but can be matched with a nicer smelling oil.
Skin Care Uses and Benefits: Calendula makes an excellent base for lotions, salves and creams. If you have sensitive skin Calendula Oil would be ideal for you, it's even gentle enough that it can be used on babies to treat diaper rash.
Calendula is an excellent anti inflammatory and antiseptic making it beneficial to sore, inflamed itchy skin conditions. It promotes healing, increases collagen production and cell regeneration. It also aids in the reduction of scars making it ideal for many skin conditions.
Calendula is commonly used for acne, eczema, psoriasis, diaper rash, dry chapped skin and other rashes. It is a wonderful oil to have on hand at all times.
Calendula blends well with these essential oils: Geranium, Lavender, Tea Tree Oil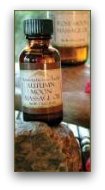 To Purchase Calendula Oil Click Here
Return From Calendula Oil to Essential Oils
Privacy Policy