Essential Oils For Skin Care Is A Perfect And Natural Way To Treat A Variety Of Skin Conditions



Essential oils for skin care have been around for thousands of years and used all through history. They play a very big part in natural skin care and are once again becoming popular.
What Exactly Are Essential Oils?
Essential oils are extracted by a process called distillation. They are extracted from flowers, roots, bark and leaves of different plants. What you are left with is a concentrated oil that can be used on your skin.
Keep in mind that these oils are very concentrated so never apply them undiluted to your skin. Always use a carrier oil. Take extra care with citrus oils because they can burn and irritate your skin if not used properly. Of course keep them away from your eyes and nose and do not ingest them no matter how good they smell!
For more information on carrier oils and what they are Click Here.
Below is a list of beneficial and most commonly used essential oils for skin that are commonly used in beauty products and recipes. These essential oils can also be added to your regular lotions and creams to give them an extra natural boost.
For more detailed information on each essential oil click on more info.
Essential Oils For Skin


If you are pregnant, plan on becoming pregnant or are breast feeding consult you doctor before using any essential oil.
Bergamot Oil Bergamot oil is a natural antiseptic that also helps speed healing of damaged skin. It is good in the treatment of skin problems such as eczema and psoriasis. Use caution if you have sensitive skin. Skin can be burned more easily when exposed to the sun. more info
Calendula Oil This skin care ingredient is good for combination skin. It reduces inflammation and is good for soothing and healing. more info
Chamomile Oil Good for sensitive skin. Chamomile is very soothing and calming and is an anti inflammatory. more info
Carrot Seed Oil Very good in anti aging treatments. This oil is high in beta carotene and is extremely nourishing. It helps improve skin's elasticity. more info
Clary Sage Oil This hormone balancing oil is good for oily skin types and as an anti aging treatment. more info
Eucalyptus Oil This oil is more well known for it's respiratory benefits but is sometimes used in skin care. It is a natural antiseptic and can aid in healing damaged skin. more info
Fennel Oil This oil is good for dull or oily skin. It is also effective in reducing cellulite and wrinkles. more info
Frankincense Oil This is good for acne prone, scarred and aging skin. more info
Grapefruit Oil An excellent astringent and cleanser. It is good for acne prone skin because it balances out oil levels. more info
Geranium Oil A good skin cleanser for aging skin. It can also heal broken capillaries. more info
Juniper Oil Juniper oil is a good choice for oily or acne prone skin. It has antibacterial and anti inflammatory properties and is also helpful in treating eczema and psoriasis. Use caution with full strength oil. It can be irritating to skin. more info
Lavender Oil A good natural cleanser and antiseptic that increases circulation to the skin. more info
Lemongrass Oil Used as an astringent in cleansers and moisturizers. more info
Neem Oil Neem oil is often used as a bug repellent but is also has antiseptic, antibacterial and anti fungal properties. more info
Neroli Oil This oil stimulates skin cell regeneration, improves elasticity and softens wrinkles and scars making it a good anti aging ingredient. It also brightens and evens skin tone. more info
Orange Oil An excellent rejuvenating oil. It helps form collagen, increases circulation and helps in cell regeneration. Great for stretch marks. more info
Patchouli Oil This a very popular strong scented oil that was used often back in the hippie era. It stimulates skin cell regeneration and can speed healing. Patchouli oil is beneficial in treating acne and eczema and can help prevent scars. more info
Rose Oil Good for dry, sensitive or aging skin. more info
Rosehip Seed Oil This oil is used quite often in anti aging treatments. Rosehip seed oil contains essential fatty acids and is high in Vitamin C and Vitamin A. This oil heals, regenerates, moisturizes and increases collagen and elastin levels. more info
Rosemary Oil A great oil for dry, aging or sensitive skin. It stimulates circulation to the surface of the skin and is a natural antiseptic. Rosemary is more common in shampoos for treating scalp problems like dandruff. more info
Sandalwood Oil Good for treating skin infections and acne. Has pain relieving properties and helps heal wounds. It also reduces wrinkles and balances out oils in skin. more info
Tea Tree Oil A very good choice for acne prone skin. This oil has anti inflammatory and anti fungal properties. more info
Witch Hazel Oil This natural astringent and toner is beneficial to oily or acne prone skin.Witch hazel is also a natural antiseptic that calms irritated skin and reduces redness.
Ylang Ylang This sweet smelling essential oil is an excellent skin balancer. Regardless if you suffer from dry, oily or combination skin ylang ylang can help you out. It is also helpful for treating skin irritations and toning skin. more info
Try one of these essential oils for skin care in one of your recipes or added to your regular skin treatments and see the difference in your skin!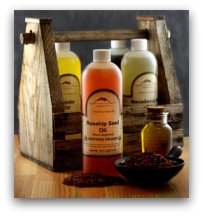 To purchase quality essential oils for skin care
Click Here
Return from Essential Oils For Skin to Natural Skin Care Recipes
Privacy Policy