Sandalwood Oil Skin Care Benefits



Sandalwood oil not only smells exquisite, but also has a revitalizing effect on the skin. It is helpful in treating a variety of skin problems and is an outstanding anti aging treatment.
Traditionally used in meditation it has been proven to prevent some types of cancer and will soon become one of your favorite essential oils.
Sandalwood Essential Oil
Botanical Name: Santalum album

Origin and Description: The Sandalwood Tree is native to the East Indies and been long used in meditation as a sedative. It is a small evergreen tree that can grow up to 30 feet tall with a brown-gray trunk with leathery leaves and small pinkish purple flowers.
Sandal wood oil goes back thousands of years as a sacred oil used in religiuos ceremonies. The Egyptians used it commonly in medicines, embalming and in ritual burnings to their Gods. Sandalwood is used predominately in the Jewsish, Buddhist and Hindu religions.
Part of Plant Used: Oil is steam distilled from the heart wood of the Sandalwood tree.
Aroma: Rich, sweet, floral, woody scent. Sandalwood oil is popular just for it's beautiful scent alone.
Skin Care Uses and Benefits: This oil is suitable for all skin types, but is especially useful as an anti aging treatment. It has antiseptic, anti inflammatory and astringent properties.
It is very helpful in the treatment of acne, dry, chapped or cracked skin and can help relieve itchy skin. It has been proven to help fade agespots, reduce the appearance of wrinkles and tighten skin.
Sandalwood can aid in the treatment of eczema and also can fade ugly scars. It has a soothing, cooling effect on skin and is even known to help you get a better sleep because of it's sedative properties. A few drops in your evening bath will not only work wonders for your skin but can help you have a more restful sleep.
Sandalwood Essential Oil blends well with these other skin care oils: Bergamot, Chamomile, Clary Sage, Fennel, Frankincense, Geranium, Grapefruit, Lavender, Lemon, Neroli, Orange, Patchouli, Rose and Ylang Ylang.
Cautions: Considered non toxic it can be used undiluted on skin. Always do a test patch first before fully applying because even natural ingredients can cause allergic reactions or irritation. If in doubt always consult with your doctor first.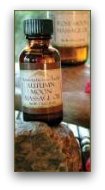 To purchase Sandalwood Essential Oil Click Here
Return from Sandalwood Oil to Essential Oils
Privacy Policy