Rose Oil



Rose oil is one of the best known and oldest of the essential oils. With it's aphrodisiac qualities it is used as a symbol of love all over the world and is renowned for it's divine fragrance.
Rose essential oil is an excellent multi purpose oil that is suitable for even the most sensitive skin types.
Rose Essential Oil
Botanical name: Rosa damascena
Origin and Description: For centuries the rose has been used in cosmetics, medicines and perfumes by the ancient Greeks, Romans and Arabs. We've all heard how Cleopatra used rose petals in her bath.
The rose was one of the very first plants to be distilled and is thought to have originally come from Central Asia
Part of Plant Used: Oil is steam distilled from rose petals. It amazingly takes 180 pounds of rose petals to make just 1 oz of essential oil which I guess explains why it's not the cheapest oil to buy.
Aroma: Strong, sweet floral scent.
Skin Care Uses and Benefits: This oil is perfect for sensitive, dry, problemed and aging skin. It has antibacterial, antiseptic, and astringent properties.
Rose essential oil is definately a multi purpose oil. It moisturizers and hydrates, it can reduce inflammation, reduce redness, tone and lift skin, heal broken capillaries, and fight wrinkles. It has also proven very useful when treating eczema.
Just adding a few drops to your regular skin treatments can make a big improvement in your skin's appearance.
Rose Essential Oil blends well with these other oils: Bergamot, Chamomile, Clary Sage, Fennel, Geranium, Lavender, Lemon, Neroli, Patchouli, Sandalwood and Ylang Ylang.
Cautions: Avoid using while pregnant. If in doubt always consult with your doctor first.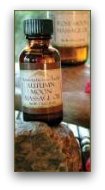 To purchase Rose Essential Oil
Click Here
Return from Rose Oil to Essential Oils
Privacy Policy