Lemongrass Oil



Lemongrass Oil has a long history dating back thousands of years. A very popular herb used in Thai cooking, it has also been proven to be useful when used in skin care treatments.
Lemon Grass Essential Oil
Botanical Name: Cymbopogon Citratus
Origin and Description: This fast growing aromatic perennial grass is native to Asia but is cultivated now in the West Indies and Africa. It can grow up to 1.5 metres and it's colors can range from gold to greenish blue.
Traditionally this herb was used for muscle spasms, reducing fever and was also helpful for relieving stomach problems.
Part of Plant Used: The leaf or grass is used to extract oil through steam distillation.
Aroma: Strong lemony sweet scent.
Skin Care Uses and Benefits: This is an excellent essential oil to add to your cleanser if you suffer from oily skin. It unclogs pores and has antiseptic and antifungal properties making it also ideal for acne prone skin.
Lemon Grass is high in antioxidants and is good skin astringant. It firms, tones and reduce the appearance of enlarged pores. It has also proven beneficial when used in cellulite creams and is effective in fighting fungal infections.
Used in your bath lemon grass essential oil can rejuvenate the body, settle nerves and can even relieve headaches.
Lemon Grass Essential Oil blends well with these other essential oils: Bergamot, Clary Sage, Fennel, Geranium, Grapefruit, Lavender, Orange, Patchouli, Tea Tree and Ylang Ylang
Cautions: Do not use if you have sensitive skin as it can cause irritation. If in doubt always consult with your doctor.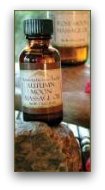 To purchase lemongrass essential oil
Click Here
Return from Lemongrass Oil to Essential Oils
Privacy Policy