Ylang Ylang Skin Care Benefits



Ylang Ylang is a natural skin balancer that can correct both dry or oily skin and is beneficial when treating acne.
Meaning "flower of flowers", this oil has a beautiful soothing aroma that is said to be an aphrodisiac and also has a long history as a very effective anti depressant and mood lifter. This is one essential oil that you will absolutely fall in love with.
Ylang Ylang Oil
Botanical Name: Cananga odorato
Origin and Description: The YlangYlang tree is native to Asia but was introduced to Malaysia, Indonesia, Pacific Islands and is now also cultivated in Africa, the Americas and the Carribean.
This fast growing tropical tree can grow 40-60 feet and has smooth, glossy leaves with beautiful, very fragrant, greenish-yellow blooms.
Part of Plant Used: Oil is obtained through steam distillation of the blooms from this evergreen tree.
Aroma: Has a fresh, floral, almost fruity scent and is very popular in the perfume industry.
Skin Care Uses and Benefits: YlangYlang has a lengthy history of skin and hair care in Asia. It also carries the additional benefits of being a very effective anti depressant and sedative and is even believed to be helpful with PMS symptons. A few drops in your bath will not only be good for your skin but will also elevate your mood and improve your over all sense of well being.
This oil is an excellent choice for anyone who has combination skin. It balances sebum (oil) production so regardless if you have dry, oily or combination skin, YlangYlang will correct it.
Can be used to clean wounds and prevent infection because of it's anti bacterial and antiseptic properties. Very useful for fighting skin irritations and boils. YlangYlang Oil is effective in treating acne and stimulates and tones skin.
This oil is a good choice to add to your facial toner, or to your facial toner recipes.
YlangYlang blends well with these other essential oils: Bergamot, Chamomile, Lavender, Clary Sage, Neroli, Sandalwood, Rose, Orange, Patchouli, and Grapefruit.
Cautions: Do not use while you are pregnant or breast feeding. Can cause sensitivity in some people and over use can cause nausea and headaches. If in doubt always consult with your docter.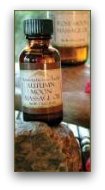 To purchase Ylang Ylang Oil
Click Here
Return from Ylang Ylang to Essential Oils
Privacy Policy