Sweet Orange Oil



Sweet Orange oil is commonly used in aromatherapy to treat depression and anxiety, for digestive upsets, and even in a lot of house hold cleansers.
Being very high in Vitamin C and antioxidants it is very useful in skin care as well. If you are having a blue day, put a few drops in your bath and it will not only uplift your mood but can improve the texture and tone of your skin.
Sweet Orange Oil
Botanical Name: Citrus sinensis
Origin and Description: An evergreen tree that has dark green leaves and white blossoms that mature into, you guessed it, oranges. Native to China, orange trees are widely cultivated in America. The largest producing companies now are in the USA, Brazil and Italy.
Beginning in the 17 century it was used traditionally used for healthy digestion and all over well being.
Part of Plant Used: Oil is cold pressed from the peel off the fruit.
Aroma: Sweet, fresh, citrusy scent.
Skin Care Uses and Benefits: High in Vitamin C and Antioxidants this is a very good anti aging oil. It promotes collagen production, detoxifies and increases the circulation to the skin's surface. It improves tone and texture making skin appear more youthful and healthy.
It is useful in creams and lotions to treat acne, dermatitis and dry irritated skin. Adding a few drops to your bath is not only good for your skin, but is also helpful with flues and colds, eliminating toxins and boosting the immune system. And don't forget that uplifting yummy smell!
Blends well wih these other essential oils: Eucalyptus, Frankinsence, Patchouli, Geranium, Lavender, Rose, Ylang Ylang.
Cautions:Do not use if you are pregnant. Use with caution if you have sensitive skin. Can cause sensitivity to the sun so take proper precautions. Do not use if you are epileptic, have liver damage or any other health problems. Never use undiluted on your skin. If in doubt always consult your with your doctor.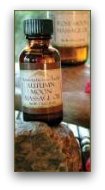 To purchase this oil
Click Here
Return from Orange Oil to Essential Oils
Privacy Policy