Neroli Oil Skin Benefits



Neroli oil is very well known for it's wonderful floral scent, making it one of the most popular aromatherapy oils. It also just as beneficial in skin care as it is in aromatherapy and is an essential oil that you will be hooked on after you try it.
This oil not only improves the health of your skin but it is one of nature's most effective stress relievers. Neroli essential oil can help improve your skin and your over all well being.
Neroli Essential Oil

Botanical Name: Citrus aurantium amara
Origin and Description: Widely used around the world neroli originated in Italy. It was very popular in perfumes and was also used a lot in skin care.
The oil is derived from the white blossoms of the Bitter Orange Tree, a small evergreen tree that can grow up to 3 metres high.
Part of Plant Used: The oil is steam distilled from the blossoms of the bitter orange tree.
Aroma: A sweet floral scent that will more than likely become one of your favorites. The nice thing about this oil is it's ability to blend well with other scented oils.
Skin Care Uses and Benefits: If you have sensitive, acne prone, irritated or aging skin this oil will work very well for you.
It stimulates skin cell growth and improves skin's elasticity and is also very effective in preventing and treating scars and stretchmarks.
Because of it's antibacterial properties it promotes healing and can even provide some pain releif for minor cuts and wounds. Combined that with its ability to cleanse and balance skin oils and it makes a good choice for acne prone skin as well.
Neroli Essential Oil blends well with these other oils: Citrus Oils, Clary Sage, Lavender, Geranium, Rosemary, Sandalwood and Ylang Ylang Oils.
Cautions: Avoid using while pregnant. If in doubt always consult with your doctor first.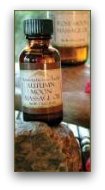 To purchase Neroli Oil
Click Here
Return from Neroli Oil to Essential Oils
Privacy Policy