Chamomile Oil



Chamomile Oil is a wonderful addition to any skin care treatment. We often associate Chamomile with it's relaxing tea and stress relieving properties but it is also one of the most potent anti inflammatory oils and is used in a variety of skin care products.
Chamomile Essential Oil
Botanical Name: Matricaria recutita (German Chamomile),Anthemus nobilis L (Roman Chamomile)
Origin and Description: German Chamomile, also known as blue chamomile, is a perennial cultivated in Hungary, Egypt, Eastern Europe and France. It is larger than Roman Chamomile with feathery, fine shaped leaves and white daisy like flowers.
Roman Chamomile, also known as English Chamomile, is also a perenial cultivated in Germany, France, Spain, and Italy. It is smaller than the German Chamomile having fuzzier leaves and stems and the same white daisy like flowers.
Part of Plant Used: Oil is extracted from the flowers produced by the plant.
Aroma: A sweet almost fruity aroma.
Skin Care Uses and Benefits: Chamomile is used in all kinds of skin treatments ranging from massage oils to diaper rash creams. While both kinds of oils are beneficial to your skin, German Chamomile has much higher healing properties than Roman, making it much more superior in skin care.
This oil has anti inflammatory, antiseptic and antifungal properties. It speeds healing and encourages skin cell regeration which is ideal if you have problemed, sensitive or aging skin. Chamomile is also very useful in the treatment of acne, eczema, psoriosis, skin infections, rashes, allergic reactions, burns, boils and redness.
I think no matter which skin type you have this oil is will benefit your skin. Putting a few drops of Chamomile Oil in your bath is a good way to not only relieve stress but it also softens and rejuvenates your skin at the same time.
Chamomile Essential Oil blends well with these oils: Bergamot, Clary Sage, Lavender, Geranium, Tea Tree, Rose, Lemon, Patchouli and Ylang Ylang Oil.
Cautions:Always test patch any oil and always consult a doctor if you are pregnant before using any essential oil.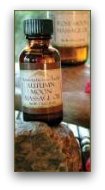 To purchase Chamomile Essential Oil Click here
Return from Chamomile Oil to Essential Oils
Privacy Policy