Tea Tree Oil Skin Care Benefits



Tea tree oil is one of those essential oils that everyone should keep on hand at all times. This natural antiseptic has steadily been gaining world wide popularity for the past 20 to 30 years and with good reason.
Tea tree essential oil can be commonly found in natural cleansers because of it's ability to fight fungus, bacteria and viruses. This potent healer will soon become one of your favorites and can be used for a variety of skin problems.
Tea Tree Essential Oil
Botanical Name: Melalueca alternifolia
Origin and Description: Tea tree has been used by the aboriginals of Australia now for thousands of years. It was used as an antiseptic to treat wounds, cuts and many other skin ailments.
The Melalueca tree can be found along the coastal regions of Australia and actually looks like a large shrub rather than a tree. Growing up to 20 feet tall it has green needle like leaves and produces yellow or purple flowers, depending on which variety of Melelueca tree it is.
Part of Plant Used: Oil is obtained by steam distillation from the tea tree leaves.
Aroma: Tea tree has a warm, fresh, spicy and pungent scent.
Skin Care Uses and Benefits: Tea tree oil has very high antiseptic, germicidal, antibacterial and anti fungal properties. It speeds healing and because it absorbs so easily into skin it continues to block bacterial growth preventing the reoccurrence of skin ailments.
If you suffer from acne and oily skin this is a very effective essential oil. It regulates the production of sebum (oil), unclogs pores and removes bacteria and dead skin cells that can accumulate from oily prone skin. Add a few drops to your regular cleanser and you will see a difference.
Tea tree is also high in antioxidants, boosts collagen production and improves circulation to the surface of your skin. These three things are very important to aging skin, so if you are trying to fight wrinkles use tea tree oil in your toner or cleanser and you can lessen the appearance of wrinkles and even out your skin tone.
Keep tea tree essential on hand as a natural alternative to your regular antiseptic. It promotes healing of cuts and scrapes and has been proven to be useful when treating acne, cold sores, warts and boils. If you have little ones you will always have a use for this oil and you can feel confident that you are not using harsh chemicals on your children. Teatree oil is natural and safe.
Tea tree essential oil blends well with these other oils: Bergamot, Chamomile, Clary Sage, Eucalyptus, Geranium, Juniper, Lavender, Lemon, Rosemary and Ylang Ylang.
Cautions: Do not use if pregnant or breastfeeding. Can irritate skin when used undiluted so always test it on a small area before full use. If in doubt always consult with your doctor.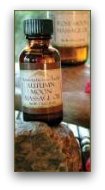 To purchase tea tree essential oil
Click Here
Return from Tea Tree Oil to Essential Oils
Privacy Policy