Frankincense Oil



Frankincense oil always brings to mind aromatherapy and incense. Mentioned several times in the Bible and given with Myrrh as a gift to baby Jesus, it was as valuble as gold and used thousands of years ago as a skin treatment. Today it is still one of the most widely used essential oils.
Known for its ability to releive anxiety and be very calming, it is also very useful when included in your skin care treatments, especially to ward off the signs of aging.
Frankincense Essential Oil
Botanical Name: Boswellia carteri
Origin and Description: Frankincense has been traded on the Arabian Peninsula and North Africa for over 5000 years and is native to the Red Sea region. It was used by ancient Egyptians to rejuvenate skin and of course as incense in religious ceromonies.
Frankincense comes from the Boswellia Tree. It actually looks more like a large narly bush, with an abundance of slender leaves, sometimes producing small white or pinkish flowers. The Boswellia Tree is extremely hardy and is even capable of rooting itself in rock.
Part of Plant Used: This essential oil is steamed distilled from the gum resin obtained from the Browellia Tree.
Aroma: Very popular in aromatherapy, Frankincense has a wonderful woody, sweet spicy smell. Putting a few drops in your bath is not only beneficial to your skin but has calming and uplifting effect.
Skin Care Uses and Benefits: Frankincense Essential Oil can be added to creams and lotions and has skin rejuvenating, antiseptic and anti inflammatory properties. It can balance out oily or dry skin and improves skin's tone and texture.
It encourages healing and is helpful with acne, blemishes and sores. It can reduce the appearance of stretch marks, scars and agespots. Because it encourages new skin cell growth it is excellent for fighting the signs of aging.
Frankincense blends well with these essential oils: Sandalwood, Lavender, Myrrh, Pine, Orange, Rose, Bergamot, Lemon and Ylang Ylang.
Cautions: If you are pregnant always take caution. If you are not certain always contact your doctor.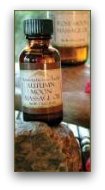 To purchase Frankincense Oil
Click Here
Return From Frankincense Oil to Essential Oils
Privacy Policy