Patchouli Oil



Patchouli Oil is one of those essential oils that you either really like or you really don't. When most people hear the name patchouli, the first thing that usually comes to mind is the hippie era.
However there is much more to this natural skin care oil than just it's ability to mask the smell of marijuana. If you like the aroma of patchouli it can quickly become one of your, and your skin's, favorite essential oils.
Patchouli Essential Oil
Botanical Name: Pogostemon cablin
Origin and Description: This oil comes from the odoriferous plant, a perannial herb which is native to India and Malaysia. In Japan and China it was used in a lot of traditional medicines because of it's ability to fight infections.
Patchouli has also long been considered an aphrodisiac and of course it really hit it's peak in the 60's and 70's. Unlike other essential oils Patchouli gets better as it ages.
Part of Plant Used: Oil is extracted from the young, dried leaves through steam didtillation.
Aroma: Earthy, spicy, musky, sweet aroma.
Skin Care Uses and Benefits: This is an excellent oil for aging skin. It promotes new cell growth and smoothes the appearance of fine lines and wrinkles. Patchouli is also useful when used in cellulite creams and lotions.
Because it promotes healing and has antiseptic, antifungal and antibacterial properties it can be helpful when treating skin conditions such as eczema, dermatitus, psoriasis and acne. Patchouli essential oil regulates oily skin, rejuvenates and can also prevent scarring.
Non irritating it can be used on even the most sensitive skin.
Patchouli blends well with these other essential oils: Geranium, Lemongrass, Clary Sage, Citrus Oils, Rose, Bergamot, Rosemary, Frankinsence and Sandalwood.
Cautions: Considered non toxic and safe. Always consult your doctor if you have any doubts.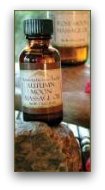 To purchase Patchouli Essential Oil
Click Here
Return from Patchouli Oil to Essential Oils
Privacy Policy