Using Natural Face Cleansers Prevents Skin Damage Caused By Harsh Chemicals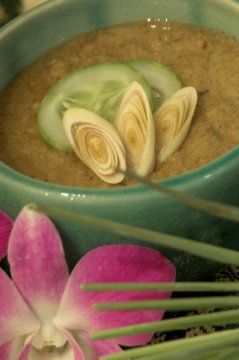 A good skin care routine should include natural face cleansers that are gentle, effective and and can be used every day. Out of our whole bodies it's our face that is exposed to pollutants, and impurities the most.
We apply make up and other products through out the day to our faces, so it is extremely important to clean your skin properly every night. This prevents build up of dirt and oil that can cause dull unhealthy skin and acne.
Cleaning your skin at night before bed is also ideal because it is while you are sleeping that your body does most of it's healing and regenerating. A gentle cleansing ensures your skin can function properly and do it's job while your sawing logs!
Natural face cleansers should leave your face feeling clean, moisturized and rejuvenated. It should not feel tight and stripped of all it's oils.
Soaps are not recommended for use on your face. Unfortunately soap works too good and strips your face of everything good or bad. Once your skin has been stripped of all it's oils it takes time for your skin to build up another protective layer and so it is vulnerable to skin damage. Over the long haul this can contribute to wrinkles and sagging skin and that is exactly what we are trying to prevent!
Natural skin cleansers can range from very simple to exotic but they all have one thing in common. They both cleanse as good, if not better than any regular drugstore cleanser and provide natural nutrition for your skin.
Common Natural Face Cleansers


Alpha-Hydroxy Acids are excellent for cleansing and exfoliating the skin naturally with out stripping it of all it's oils. When you use a natural cleanser it only removes excess oil. This means that the natural oils left behind in your skin can now work their way to the top surface of the skin that has just been cleaned, and do exactly what it suppose to do. Moisturize! As you can see washing your face shouldn't tighten up your skin and dry it out, it should rejuvenate and moisturize it. Below are natural ingredients that contain alpha-hydroxy acid.
Milk
Lemon Juice
Cider Vinegar
Oranges
Blackberries
Grapes
Tomatoes
Apple juice
These other natural ingredients are also excellent facial cleansers that we often see in store bought products. Look for these when purchasing your cleanser.
Coconut Milk
Almond Oil
Lavender
Rose Hip
Tea Tree Oil
Geranium Oil
Of course there are also more exotic natural ingredients that are good cleansers, just be sure to read the labels and ingredients well to ensure everything is natural or organic.
If you have more sensitive skin use a cleanser that is rich in emollients like aloe vera and green tea. These ingredients have natural healing properties.
When washing your face, gently massage your natural face cleanser in small circular motions. Massaging the skin increases blood circulation and stimulates new cell growth which is what makes your skin more youthful and fresh looking. Always pat skin dry. Being rough on your skin can cause damage over time like wrinkles and sagging skin.
Click on the link below to go to natural face cleanser recipes.
Facial Masks


Aside from your everyday cleanser you should also use a natural face mask once a week. Masks pull out dirt and impurities from far deeper in the skin allowing proper and balanced oil production. This is very helpful in keeping away blemishes.
Another benefit is that your skin is now able to take full advantage of the nutrients you apply to it because your pores have been deep cleaned and are ready to absorb!
There are many kinds of masks suited for every skin type. If you have combination or oily skin a clay mask would be the most beneficial. Clay detoxifies without drying out the skin. If you have more dryer skin you want a mask that reduces oil but also adds natural moisture.
To brighten up dull skin use an exfoliating mask with fruit extracts. This will have your skin smooth and glowing!
Aging skin should use a mask for dry skin or a firming mask. Hydration reduces the look of wrinkles.
If you have normal skin then whatever natural face mask you use is going to drastically increase the look and feel of your skin. Click on the link below to go to natural face mask recipes.
Purchasing Natural Face Cleansers


When purchasing natural face cleansers always check what is used for an emulsifier. An emulsifier is the ingredient they add to bind water and oil together. Be sure it is natural and not synthetic chemicals. Glyceryl Stearate, Cetearyl Alcohol, Sodium Lactylate are all emulsifiers derived from natural ingredients like palm oil, olive oil and coconut oil.
Fragrances should be from essential oils and not artificial or synthetic. Fragrances are one of the top causes for skin irritations.
I feel like a broken record saying this but I will say it anyways. Always read the label and check the ingredients to make sure the product is truly organic or natural like it says it is.
As you can see you don't have to spend a ton of money on expensive cleansers to have clear beautiful skin. Natural face cleansers can out clean, out moisturize any product out there and have real, lasting, healthy results!
Recommended Natural Skin Care Products
Privacy Policy